Rosh Hashanah Catering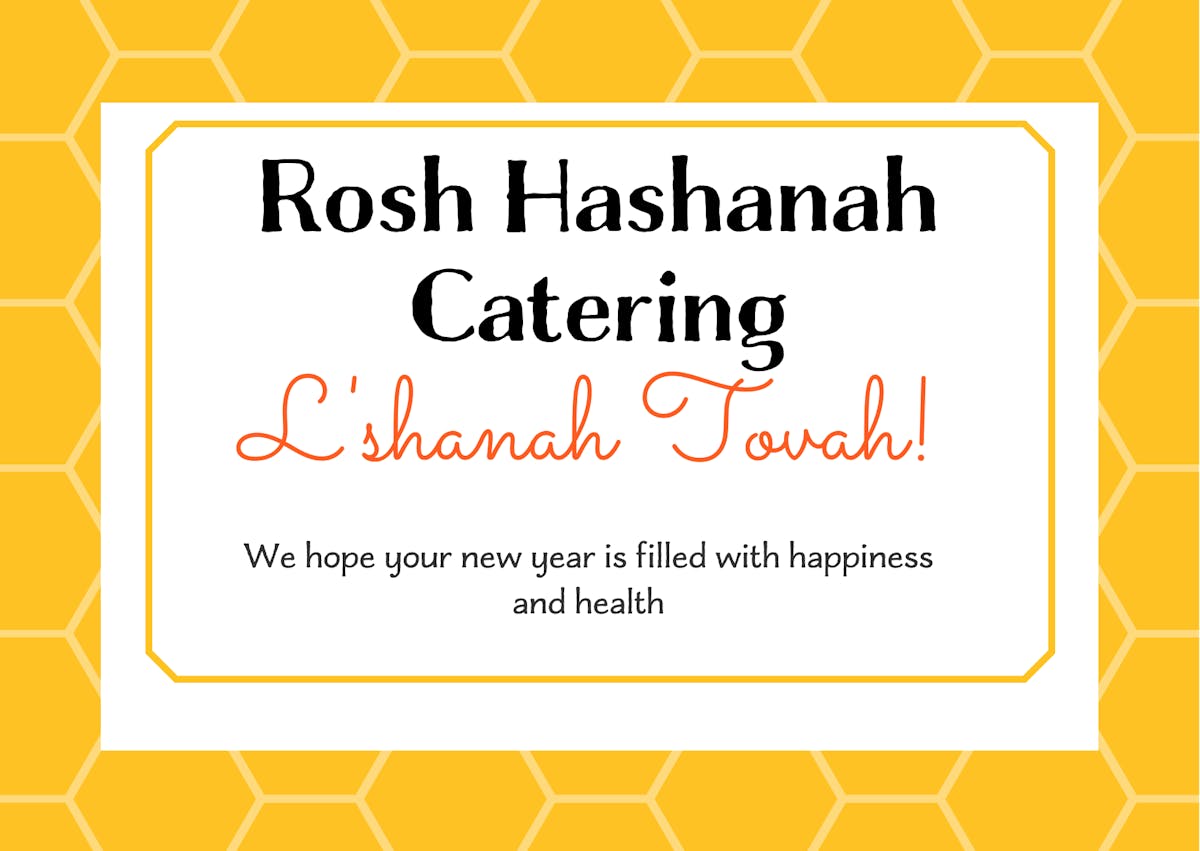 SOLD OUT
On Monday September 6th, we will welcome the Jewish New Year 5782! Let us help you celebrate a sweet new year! We will be serving time tested traditional recipes and crowd- pleasing favorites, available to order from our online store.
DEADLINE FOR ORDERING IS 8/31 AT 2PM
Pickup Monday 9/6 between 1 & 3, cold.
ROUND CHALLAH
Homemade Large Round Challah Bread…$12.
APPETIZERS
-Chopped Chicken Liver, half pint...$8.
-Mini Potato Pancakes, Applesauce, 1 doz…$25.
-Apple & Toasted Walnut Charoset, 1/2 pint...13.
-Pickles by The Pimp of Pickles, half sour dills, 1 jar...$7.
(additional appetizers and catering dishes on our online menu)
FIRST COURSE
-Matzoh Ball Soup, 1 quart, 2 balls... $17
-Matzoh Ball, each...$1.5
-Seared Tuna...$20.
Sesame seared tuna with soy-ginger-wasabi served with wakami seaweed salad, 8 oz sushi grade Ahi Tuna
serves 2
MAIN COURSE
-Applewood Roasted Salmon, 8oz...$17.
with Apple Cider Reduction
serves 1
-Brisket. 1lb...$40
Slow Braised Brisket with Pan Gravy
1lb, serves 2 people
-Organic Chicken Breast...$15.
Boneless Breast of Chicken, Wild Mushrooms,
Caramelized Sweet Onions & Madeira Wine
serves 1
SIDES, serves 2
-Noodle Kugel... $14
-Roasted Potatoes…$12
-Mashed Potatoes...$12
-Roasted Root Vegetable Tzimmis...$15.
-Brussel Sprouts, Roasted with Balsamic Glaze…$14.
-Chilled Lime-Agave Marinated Beets...$10.
DESSERTS
-Rugelach, 12 pieces (Keith's Famous)…$24
Apricot, Raspberry, Chocolate & Walnut
-Apple Strudel…$6/piece
SOMM'S PICKS:
Pommery Brut Royal Kosher Champagne, Reims, France NV .750ml..........$65
(pairs great with everything)!
Cabernet Sauvignon
Bella Union by Far Niente, 2017, Napa Valley, CA...$65
(pairs with brisket)
Pinot Noir
Chemistry by Chehalem, 2018, Willamette Valley, OR...$35
(pairs with salmon & chicken)
Chardonnay
Hoopla Unoaked, 2018, Yountville, Napa Valley, CA...$35
Vine Cliff Winery, 2017, Los Carneros, CA...$50
(pairs with salmon & chicken)
Rosé
Tibouren, Clos Cibonne, Cru Classé, 2019, Côtes De Provence, France...$40
(pairs with everything)
Orange
Gerard Bertrand 'Orange Gold' 2020, South of France...$35
A rosé-gold colored exceptional blend of Rhone & Mediterranean grapes.
Minerally & fresh
(pairs with appetizers, chicken & salmon)